"Whimsical Fairy Walk" Presented by Stanley Park
Saturday, October 7, 2023 and Sunday, October 8, 2023 10:00 a.m. – 4:00 p.m.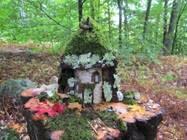 Join us for a whimsical walk through our Woodland Wildflower Garden that will be sprinkled with fairy houses for a magical experience of the natural world. Volunteer builders create a fairyland of small structures built out of natural materials, opening a portal to the imagination and the incredible world around us through deep observation of nature's gifts. This is a family-friendly celebration of nature, creativity, inspiration and community.
There is still time to register as a builder if you want to create your own fairy or gnome house. Email stanleypark@stanleypark.org to register!
Parking for this event is in Rose Garden parking area accessible using Gates 2, 3 and 4. This event will be held rain or shine and is free of charge however donations are accepted and greatly appreciated.