Westfield State University to host Dr. Cristina Azocar of San Francisco State University as part of Women's Media Center lecture series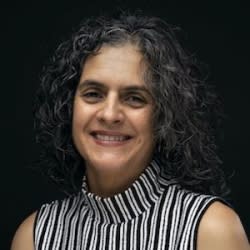 Dr. Cristina Azocar to present the lecture, "Pocahontas Chic: Damaging Media Representations of Indigenous Women," at Westfield State University on March 28.
How are Native American women represented in American media?
That is the question Dr. Cristina Azocar, author and journalism professor at San Francisco State University, will examine in a lecture at Westfield State University.
Sponsored by the Communication Department, Westfield State has been selected to host a new lecture series from the Washington, DC-based Women's Media Center. Azocar's lecture, entitled "Pocahontas Chic: Damaging Media Representations of Indigenous Women," is also endorsed by the Communication Club and the departments of English, History and Philosophy, and Ethnic and Gender Studies. It is being presented during Women's History Month.
The lecture will take place at 4 P.M. on Tuesday, March 28, 2023, in the Loughman Living Room of Scanlon Hall on the Westfield State University campus, 577 Western Ave., Westfield, MA.
"We know that people often rely on stereotypical media representations for their impressions of entire groups of people they have little direct exposure to," said Tom Gardner, Chair of the WSU Communication Department. "Critically examining these media images is a significant part of what communication scholars do, and we are fortunate to have a leading scholar in this field as the inaugural lecturer in this important and exciting new lecture series," he added.
Azocar, a citizen of the Upper Mattaponi Tribe, is the author of the book News Media and the Indigenous Fight for Federal Recognition. She is past president of the Native American Journalists Association and is a former board member of the Women's Media Center.
The lecture series is named for Beverly Wettenstein, who bequeathed the funding for the series to the Women's Media Center. Wettenstein, who passed away in 2019, was a renowned journalist, speaker, media critic and historian. She chronicled the representation of women in national media outlets and was the founder of the "Women in History and Making History Today – 365-Days-A-Year - Database." She also served as a public affairs executive with several global banks, as well as Semester at Sea. She wrote the "HerStory" column in the Dallas Morning News.
Wettenstein's dedication to women's history and journalism led her to leave a gift to the Women's Media Center for a series featuring an annual lecture on women's history and media, according to Julie Burton, president and CEO of the Women's Media Center.
The Women's Media Center, co-founded by Jane Fonda, Gloria Steinem, and Robin Morgan, is an inclusive and feminist organization that works to raise the visibility, viability, and decision-making power of women and girls in media to ensure that their stories get told and their voices heard, according to Burton. "We do this by researching and monitoring media, creating and modeling original online and on-air content, training women to be effective in media, and promoting women experts in the field," she said.
"We chose Westfield State University and its Communication Department to host this prestigious lecture series because they embody the history, representation, and inclusion we hope our WMC Beverly Wettenstein Women's History Lecture Series reflects," Burton continued.
"Founded in 1839 by the abolitionist and public education champion, Horace Mann, Westfield State University was the first co-education college in the United States to welcome students of all genders, races, economic abilities and religions. We are proud to add our WMC Lecture Series to this university's important history," she added.
Introductions will be made by Communication students Ava Diggs and Tara Wallace, along with introductory remarks by Burton and Westfield State University President Dr. Linda Thompson.
The lecture is free and open to the public and is wheelchair accessible.
For additional information on the Women's Media Center, contact: Cristal Williams Chancellor, Communications Director, WMC at cristal@womensmediacenter.com; cell 202-270-8539.
To view the event online by Zoom, contact Kathy Pitoniak, administrative assistant to the Communication Department at kpitoniak@westfield.ma.edu.
Founded in 1839 by Horace Mann, Westfield State University is an education leader committed to providing every generation of students with a learning experience built on its founding principle as the first public, co-educational college in America to offer an education without barrier to race, gender, or economic status. This spirit of innovative thinking and social responsibility is forged in a curriculum of liberal arts and professional studies that creates a vital community of engaged learners who become confident, capable individuals prepared for leadership and service to society. For more information on Westfield State University, visit www.westfield.ma.edu,www.twitter.com/westfieldstate, or https://www.facebook.com/WestfieldStateUniversity.