Westfield State University Students Recognized for Academic Achievement in Political Science
WESTFIELD -- Westfield State University students were recognized for academic achievement in political science as new members of Pi Sigma Alpha, the National Political Science Honor Society.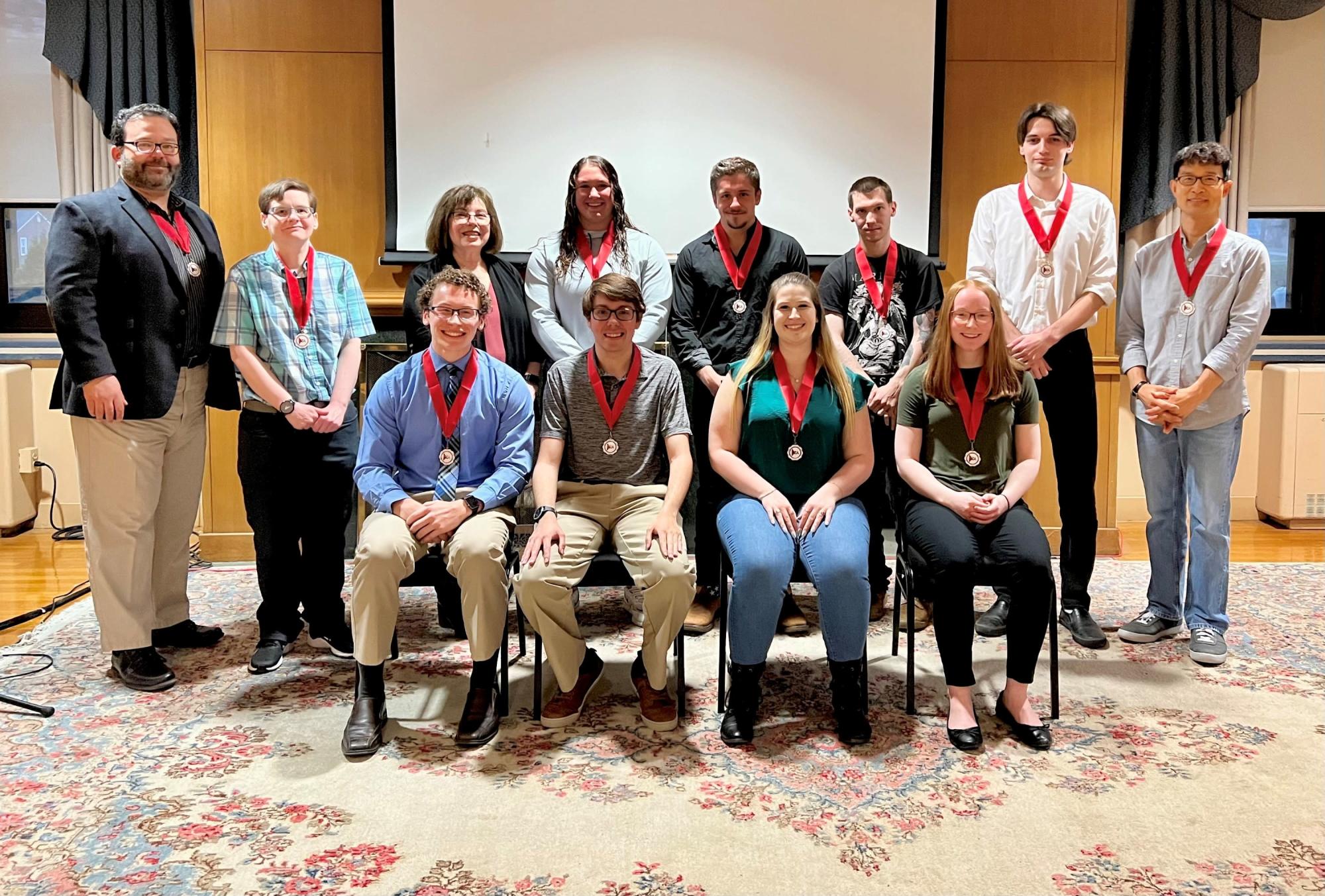 Newly inducted members of Westfield State University's Mu Nu chapter of Pi Sigma Alpha, with advisor Dr. Charles DiStefano and Political Science faculty Dr. Heather Brown, Dr. Marsha Marotta and department chair Dr. Y. Hugh Jo. (Submitted photo)
Natalie Pullen, Jeffrey Pearson, Samantha Adkins and John Daub join the ranks of notable Pi Sigma Alpha members including President Bill Clinton, three Supreme Court Justices and dozens of members of Congress.
Pullen, a junior, is a Criminal Justice & Political Science Major with a concentration in Interdisciplinary Law. She aspires to become a Massachusetts State Trooper once she graduates from Westfield State. Pullen graduated from Agawam High School in 2019. "I am so grateful and glad that all of my hard work paid off!" she said.
Pearson, a Westfield State Senior graduated from Northampton High School in 2018. "This is an acknowledgement of hard work, and the patience my family has had," said Pearson. He is a History and Political Science Major with a concentration in International Studies. Pearson is interested in becoming a labor organizer "to fight for the rights of those who have none" after he graduates in May.
Adkins, a Westfield State University Senior from Belchertown, graduated from Belchertown High School in 2018. "It is proof of all the hard work I have put in and my accomplishments over the last four years here at Westfield State University," said Adkins. She is a Criminal Justice Major with a Political Science Minor. Adkins aspires to be a paralegal/contract specialist for the NFL once she graduates from Westfield State.
Daub is a Westfield State University Junior from North Adams. He graduated from Charles H. McCann Technical High School. Daub who competes at WSU in Cross Country and Track, is a member of the Student Athletic Advisory Committee, and works part-time as a Dispatcher for the Williamstown Police Department. He is a Criminal Justice Major with a Political Science Minor. Daub wishes to pursue a career in law enforcement and emergency management once he graduates in May, 2023.
Other members recognized are: Emily Fluet, majoring in Political Science and Communications; Cameron Ganong, majoring in Political Science and Criminal Justice; Damion Henrichon, Political Science Major and Psychology minor and Jared La Valley, Political Science Major and Writing minor.
"To achieve this level of academic excellence, especially during a pandemic that has created unique academic challenges, is a truly impressive feat," said Mu Nu Chapter Advisor Dr. Charles DiStefano. Invitations to join this prestigious organization were received by Juniors and Seniors in the top third of their class who have completed at least four political science courses with a B average or higher.
Pi Sigma Alpha was founded in 1920 to bring together students and faculty interested in the study of government and politics. It has nearly 850 active chapters, including Westfield State's Mu Nu chapter which was granted its charter in 1982.
Founded in 1839 by Horace Mann, Westfield State University is an education leader committed to providing every generation of students with a learning experience built on its founding principle as the first public co-educational college in America to offer an education without barrier to race, gender or economic status. This spirit of innovative thinking and social responsibility is forged in a curriculum of liberal arts and professional studies that creates a vital community of engaged learners who become confident, capable individuals prepared for leadership and service to society.
For more information about Westfield State University, visit www.westfield.ma.edu, follow us on Twitter at www.twitter.com/westfieldstate, or on Facebook at https://www.facebook.com/WestfieldStateUniversity.