Westfield State University awarded grant from Davis Educational Foundation
Westfield State University has been awarded a $298,710 grant from the Davis Educational Foundation to support an ongoing project: Reimagining General Education: Tackling Content, Pedagogy, and Assessment to Deliver a Better Student Experience.
Funding will be allocated over a two-year period. The grant was received from the Davis Educational Foundation established by Stanton and Elisabeth Davis after Mr. Davis' retirement as chairman of Shaw's Supermarkets, Inc.
President Linda Thompson, DrPH, MPH, RN, FAAN said, "We are grateful to the Davis Educational Foundation for recognizing the importance of creating an educational experience that is timely, relevant, and truly represents what students need to be successful in contemporary society."
The grant will allow Westfield State to build on its strategic plan and mission to contribute to the economic, social and cultural growth of the northeast region by developing the knowledge, skills and character essential for students to become responsible leaders and engaged citizens.
The funds will be used by Westfield State's Special Committee on Reforming General Education (SCORE) to support course redesign and implementation of high-impact practices into the curriculum. The committee, consisting of member representation across divisions, was created to redesign WSU's General Education program and began work in May 2021. It promised a new general education curriculum that includes classes students are excited about taking and faculty are excited to teach.
In awarding the funds, The Davis Educational Foundation congratulated project leaders "for their collaborative and inclusive efforts in bringing faculty together around the new General Education program."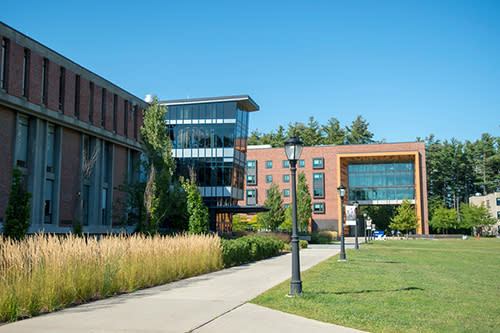 About Westfield State University
Founded in 1839 by Horace Mann, Westfield State University is an education leader committed to providing every generation of students with a learning experience built on its founding principle as the first public, co-educational college in America to offer an education without barrier to race, gender, or economic status. This spirit of innovative thinking and social responsibility is forged in a curriculum of liberal arts and professional studies that creates a vital community of engaged learners who become confident, capable individuals prepared for leadership and service to society. For more information on Westfield State University, visit www.westfield.ma.edu,www.twitter.com/westfieldstate, or https://www.facebook.com/WestfieldStateUniversity.
About the Davis Educational Foundation
The Davis Educational Foundation, established as a public charitable foundation in 1985, supports the undergraduate programs of public and private, regionally accredited, baccalaureate degree granting colleges and universities throughout the six New England states. Elisabeth K. Davis and Stanton W. Davis co-founded the foundation after Mr. Davis's retirement as chairman of Shaw's Supermarkets, Inc. The foundation is an expression of the couple's shared support and value for higher education and has provided more than $115 million in grants to more than 174 institutions.