WESTFIELD BANK ANNOUNCES $20,000 CONTRIBUTION TO PATHLIGHT
Westfield, MA— Westfield Bank is pleased to announce a $20,000 donation to the Pathlight Group's Whole Selves Program. The Whole Selves program provides social and relationship programming for people with intellectual and development disabilities and, with the help of the Bank's donation, Pathlight will be piloting the new workbook component of their relationship curriculum.
"We are proud to continue our support of this wonderful organization," said James Hagan, Westfield Bank President and CEO. "Over the past 60-plus years, Pathlight has done incredible work supporting and advocating for individuals with developmental and intellectual disabilities across the region. Westfield Bank is proud to have supported these efforts for the past 26 years."
About Westfield Bank
Westfield Bank, headquartered in Westfield, Massachusetts, is a federally chartered savings bank organized in 1853 and is the largest publicly traded bank headquartered in Western Massachusetts. The Bank is a full-service community-oriented financial institution offering a complete range of commercial and retail products and services. Currently, the Bank has twenty-five branch offices, fifty-four ATMs, and an additional thirty-one seasonal ATMs and serves Hampden and Hampshire counties in Western Massachusetts and Hartford and Tolland counties in Northern Connecticut. The Bank's middle market and commercial real estate lending team is based in Springfield, Massachusetts, and has a general regulatory limit on loans to one borrower of $40.4 million. As of June 30, 2023, the Bank employed 330 full and part-time employees, had $2.6 billion in total assets, $2.0 billion in its loan portfolio, and $2.2 billion in total deposits. The Bank is regulated by the Office of the Comptroller of the Currency. As a member of the Federal Deposit Insurance Corporation (FDIC), the Bank's deposits are insured up to the maximum FDIC insurance coverage limits. To learn more, visit the bank's website at www.westfieldbank.com.
About Pathlight
Pathlight is a 501(c)3 non-profit Massachusetts corporation with headquarters in Springfield. It was founded in 1952 by five mothers of children with developmental disabilities. Pathlight was the first organization in Hampden County dedicated to serving individuals with intellectual disabilities. The founders shared a dream that their children would live and grow as valued members of their communities despite the fact that this vision challenged prevalent societal expectations that people with developmental disabilities were best separated from their families and placed in institutions. Pathlight operates throughout Western Massachusetts and employs over 600 dedicated people.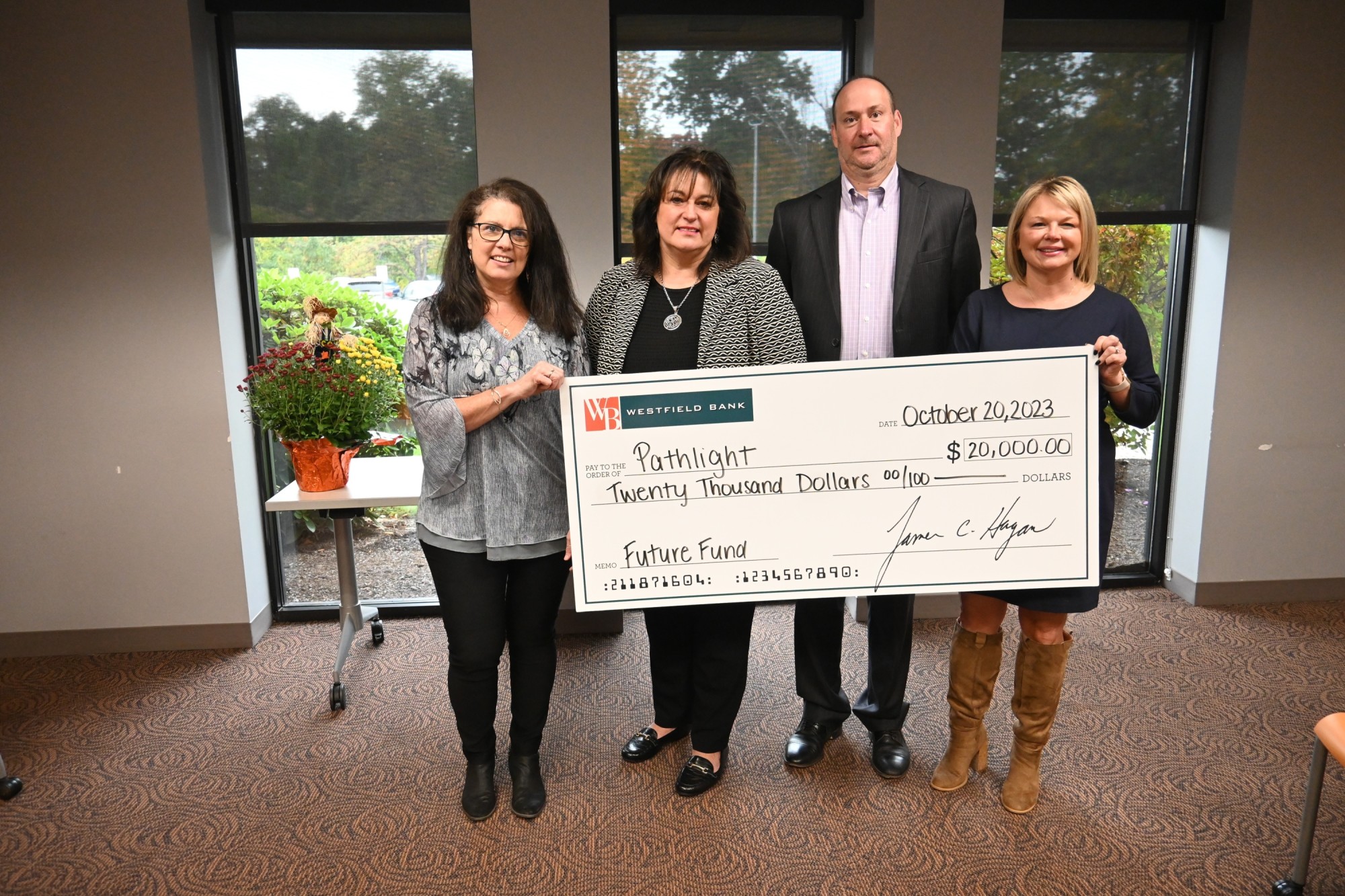 PHOTO- pictured from above: Carrie McGee, Pathlight's Whole Children and Whole Selves Director with Westfield Bank employees Lauri Lavell, VP/Business & Government Deposit Services Operations Manager; Michael Harrington, VP/Commercial Loan Officer; and Kelly Pignatare, VP/Regional Manager and Second VP of Pathlight's Board of Directors.