TIGHE & BOND HONORED WITH A 2023 CSCE ACE AWARD
Westfield, Massachusetts – May 26, 2023 – The Connecticut Society of Civil Engineers (CSCE) awarded Tighe & Bond with a 2023 Achievement in Civil Engineering (ACE) Award for the redesign of five of the Town of Stratford Connecticut's wastewater pump stations. The Stratford Wastewater Pump Station project prioritized cost-effective capital upgrades to improve the resiliency of its wastewater infrastructure and protection against damaging storm events.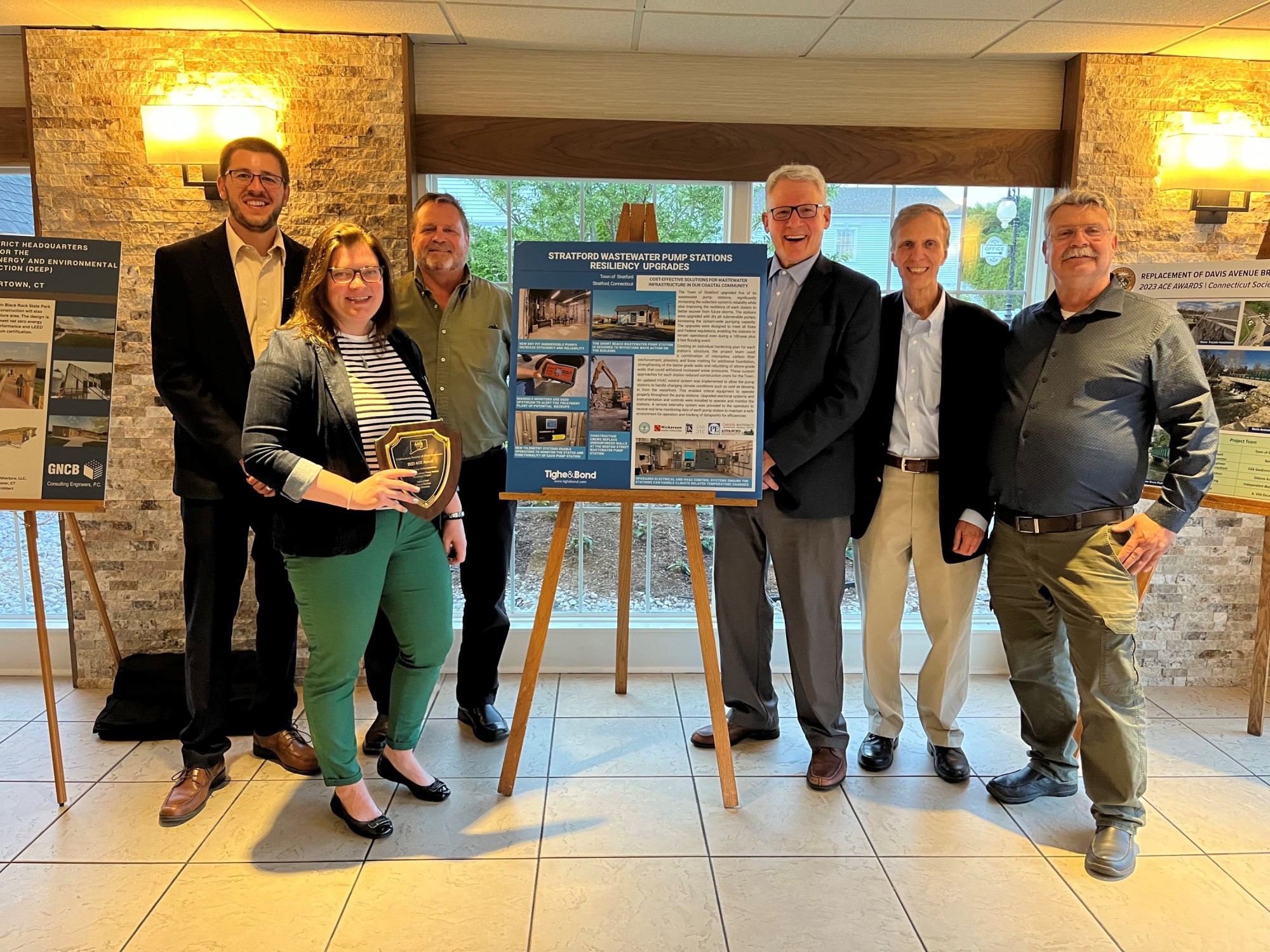 Tighe & Bond, the Town of Stratford and its project partners upgraded these critical pump stations in flood prone areas. After inspecting the stations, Tighe & Bond developed a Capital Improvement Plan encompassing all engineering disciplines including site/civil, architectural/structural, environmental, process, plumbing, heating, and ventilation, electrical, instrumentation and controls, and standby power systems.
The project team gained public support and unprecedented project funding from the state through Connecticut's Clean Water Fund which significantly reduced costs for the town. Leading presentations at public meetings, Tighe & Bond presented its proposed Capital Improvement Plan to residents and the Town Council, and they explained how these improvements would improve the resiliency of the town's wastewater infrastructure.
The engineers assisted Town officials in persuading the Connecticut Department of Energy and Environmental Protection (CTDEEP) to lift its $4 million per year per community cap for monetary assistance for this type of project. With the cap eliminated, the Town was able to upgrade all five stations at once rather than having to upgrade them slowly over several years. This achievement provided project funding and enabled the Town to benefit from a faster timeline to implement these important improvements.
"Tighe & Bond prioritized the resiliency of our pump stations ensuring the Town followed applicable regulations and design guidelines so that stations can operate even during flood events equivalent to three feet above the 100-year flood elevation. In addition, the stations operate in these conditions that prevents damage to the structures from higher flood and tidal water pressures. The Town of Stratford is very pleased with the results of this project, and we look forward to benefiting from these upgraded stations for many years to come," said Laura Hoydick, Mayor, Town of Stratford.
Tighe & Bond
Tighe & Bond is an employee-owned, regional consulting firm in the Northeast, specializing in water and wastewater, transportation, and building services engineering; site planning and design; landscape architecture; and environmental science. By focusing on bright ideas, green strategies and clear solutions, the Tighe & Bond team develops creative, collaborative solutions to complex challenges.
For more information, please contact Marketing & Communications Specialist Regina Sibilia at 413-572-3273, or email at rsibilia@tighebond.com.