STANLEY PARK SUNDAY NIGHT CONCERT SERIES PRESENTS "Gunsmoke" ON JULY 17TH
Gunsmoke has been entertaining audiences at fairs, festivals, clubs, private parties and concerts with classic country, western swing and rockabilly music for over 25 years. The Nashville recording artists have six albums recorded and have performed on the world famous Ernest Tubb's Midnight Jamboree in Nashville, TN following the Grand Ole Opry.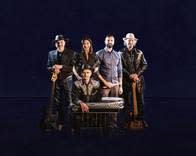 Gunsmoke began as a family affair, formed by Nick DeMaio Jr. who plays bass and sings lead vocals, and his younger brother Jeff, who plays Pedal Steel guitar. Current members include their children, Nick DeMaio III on drums, Rebecca DeMaio on vocals and saxophone, and Christina Mae on vocals, who continue the traditional sounds of country music as the next generation. The dazzling lead guitarist Van Manakas shines with his musicianship helping to make this band a class act. The stage was shared for many years by 3 generations of family with Nick and Jeff's father, Nick DeMaio Sr., affectionately known as "The Ambassador," as guitarist and singer. He passed on a lifelong passion for country music that is evident at every live Gunsmoke performance. They are a group of talented musicians who love sharing the music they were raised on.
Gunsmoke is enshrined into the Connecticut Country Music Hall of Fame, the Country Music and Dance Hall of Fame in Mount Kisco, NY, and elected band of the year six years in a row by the New York Metro Country Music Association. They have performed for two sitting Presidents of the United States and received a citation from the state of Connecticut commemorating the band's silver anniversary of 25 years entertaining audiences with classic country music.
The family band continues to entertain audiences throughout the tri-state area with their traditional country western sound.
This performance begins at 6:00 p.m. at the Beveridge Pavilion and it is free of charge. Chairs will be provided and a food service will be available.
For further information on the Westfield Bank Sunday Night Concert Series please go to www.stanleypark.org or call the park office at 413-568-9312.