STANLEY PARK SUNDAY NIGHT CONCERT SERIES PRESENTS "Eight to the Bar" ON JUNE 5TH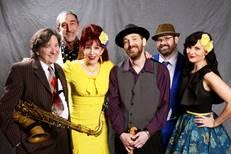 On Sunday, June 5, Connecticut's Eight to the Bar will be playing a free concert at Stanley Park in Westfield, MA from 6-8pm.Their material, like their outlandish wardrobes and onstage choreo, is a colorful mix of forties jazz and swing, fifties jump blues, a little bit of Motown, and their own swing-influenced tunes. With their female vocals, saxophone (their sax player, Collin Tilton, is Van Morrison's original sax and flute player and he played on Morrison's quadruple-platinum-selling Moondance album), guitar, bass, keyboards and drums, this unique sextet pack a musical and visual wallop not seen in New England since the group's inception in 1975. Since that time they have released 12 CDs and have excited audiences from Europe to the Caribbean. The band has been named "Best All Around Band" by the CT Now Readers' Poll 2018 and "Runner Up" for 2019 and recently had the honor of touring the Republic of Georgia (near Russia) at the invitation of the U.S. Embassy there. Currently the group is working on its 13th CD.
This performance begins at 6:00 p.m. at the Beveridge Pavilion and it is free of charge. Chairs will be provided and a food service will be available.
For further information on the Westfield Bank Sunday Night Concert Series please go to www.stanleypark.org or call the park office at 413-568-9312.