STANLEY PARK SUNDAY NIGHT CONCERT SERIES PRESENTS BAD NEWS JAZZ AND BLUES ORCHESTRA ON August 13th
Jeff Gavioli and his Bad News Jazz and Blues Orchestra, featuring vocalist Cindy Reed is known as 'The Busiest Swing Band in Western MA' with 25 performances scheduled for the summer of 2023, following over 30 concerts presented in 2021 and 20 in 2020. Based out of Northampton, MA, the BNJBO has been nominated and voted as Winner in the category of 'BEST LIVE JAZZ' in the Hampshire Gazette's 2021 and 2022 Reader's Polls after being voted as finalist in the 2020 Reader's Poll.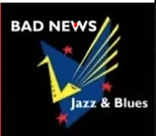 The Bad News Jazz and Blues Orchestra is a 19 piece big band that carries on the excitement of the big band era by performing music of more contemporary artists such as Brian Setzer Big Band, Michael Buble`, Big Bad Voodoo Daddy, Squirrel Nut Zippers, Cherry Poppin' Daddies, Bruno Mars, Tower of Power and many others. The BNJBO has developed a repertoire that mixes the swing music of the 30s & 40s with the Jump Jive music of today. Audience members at one moment may hear the famous Sing, Sing, Sing drum solo of Gene Krupa, followed by a driving arrangement of Crazy Little Thing Called Love by Queen, Frank Sinatra's New York, New York and then Bruno Mars' Uptown Funk. In existence since 2012, the BNJBO performs at various functions in addition to the many concerts they present throughout western and central Massachusetts during the summer months.
This performance begins at 6:00 p.m. at the Beveridge Pavilion and it is free of charge. Chairs will be provided and a food service will be available.
For further information on the Westfield Bank Sunday Night Concert Series please go to www.stanleypark.org or call the park office at 413-568-9312.