STANLEY PARK'S FRIDAY MORNINGS FOR CHILDREN PRESENTS "LET'S GET TOGETHER WITH TERRY A LA BERRY AND FRIENDS" ON JULY 22ND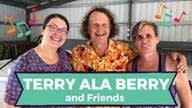 Terry A La Berry and Friends have been a favorite of New England audiences for over 30 years. They provide a highly interactive family performance that engages kids and encourages participation. The overall theme is always kindness.
Friday Mornings for Children are held in the Beveridge Pavilion Annex from
10:00 am to 11:00 am, weather permitting, and are free of charge. Chairs will be provided and blankets are welcome.
For further information on the Friday Mornings for Children Series please go to www.stanleypark.org or call the park office at 413-568-9312.