RUTH LAVOICE PROMOTED TO ASSISTANT BRANCH MANAGER AND BUSINESS SPECIALIST
Westfield, MA— James C. Hagan, President and CEO of Westfield Bank, is pleased to announce that Ruth LaVoice has been promoted to Assistant Branch Manager and Business Specialist at the Bank's 599 Memorial Drive location in Chicopee. In her position, LaVoice will be primarily responsible for small business development, including driving business deposit and loan growth and assisting small business and commercial customers with deposit, credit, and digital banking products.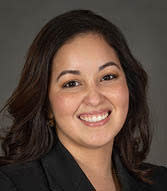 LaVoice joined Westfield Bank in 2022 as an Assistant Branch Manager of the Bank's 350 Palmer Road location in Ware. Prior to joining Westfield Bank, she spent time at multiple national banks and served as an agent at an insurance company. She is a 2022 graduate of Bay Path University with a degree in Business Administration and a certificate in Organizational Leadership.
"Ruth has developed strong customer, partner, and employee relationships throughout her career, said Laurie Davison, VP, Regional Manager. She has a passion for serving our customers and will be an excellent addition to the Memorial Drive team with her energy, leadership, customer service, and sales skills."
LaVoice serves on the Board of the Hispanic American Library in Springfield, an organization with the goal of expanding library services that focus on the works, achievements, and accomplishments of Latin Americans. She is also the founder of Tomorrow's Compass, an organization created to provide parenting, child, and family resources. LaVoice resides in Stafford Springs, CT.