"Finding Birds in the Woods" with Joanne Fortin Sunday, May 14, 2023, 7:30 a.m. – 9:30 a.m.
There's no better time to get out in the field to enjoy birds than an early morning in May. It is the height of spring migration and birds are singing. The natural world is coming alive and spring wildflowers are blossoming. Come and enjoy a walk in the woods! We'll spend time identifying birds by sight and sound. And we won't be opposed to looking down to see what spring ephemerals are in bloom. All skill levels are welcome. Bring binoculars if you have them. Rain date, May 21st.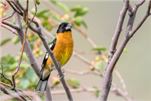 Joanne's interest in nature and birding began when she was a child. She spent summers camping with her family in a pine forest on a lake, an experience she remembers as heavenly. Her parents were avid birders and naturalists, and she considers herself a naturalist, too. Joanne has been an active member of the Allen Bird Club of Springfield for over 10 years and she enjoys sharing her knowledge and enthusiasm with others.
The workshop will meet at the main entrance sign to the Frank Stanley Beveridge Memorial Wildlife Sanctuary located across from the recreation field. Wear summer hiking attire, sturdy boots, and bring water. Nature workshops are free of charge.