Children's Program at Stanley Park "STANLEY PARK SCAVENGER HUNT"
August 18th from 10:00 am - 11:00 am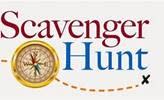 Stanley Park is sponsoring a children's Scavenger Hunt through the Park. Get ready to spend some quality time outdoors and have some fun! Meet Park staff at the Beveridge Pavilion Annex to get your scavenger hunt booklet. Complete the activities and return your finished booklet for a special prize!
This event will take place from 10:00 am to 11:00 am, weather permitting, and is free of charge.
For further information on the Scavenger Hunt please go to www.stanleypark.org or call the park office at 413-568-9312.