bankESB commits $30,000 to Girls Inc. of the Valley
Easthampton, Massachusetts, July 1, 2022 – Matthew S. Sosik, president and CEO of bankESB, announced that the bank has pledged $30,000 over three years to Girls Inc. of the Valley.
The money will be used to help support the organization's Her Future, Our Future campaign, a $5 million fundraising effort designed to help the organization better meet the needs of girls from under-resourced communities in Hampden County and beyond. Through this campaign, Girls Inc. seeks to triple the number of elementary and teen girls served, reaching more than 1,000 girls annually. Efforts include renovating a new dynamic, state-of-the-art headquarters and program center in Holyoke, expanding geographic reach in public schools in Springfield, Chicopee, and beyond, and supporting their innovative Eureka! STEM program that prepares girls for college and career.
"This incredible gift from bankESB to support the Her Future, Our Future campaign shows their impactful commitment to community," said Suzanne Parker, executive director at Girls Inc. of the Valley. "We are proud to have bankESB's support as we aim to deliver our research-based, engaging programs to more youth across the Valley – and in our new headquarters."
The donation was made as part of the bank's charitable giving program, The Giving Tree, which reflects the roots the bank has in its communities, its commitment to making a real difference in the neighborhoods it serves, and the belief that everyone's quality of life is enhanced when we work together to solve our communities' biggest problems.
"Children are our future, and Girls Inc. of the Valley is helping to build that future for young girls with innovative, supportive, and life-changing programs that inspire them to be strong, smart, and bold," said Sosik. "bankESB is pleased to do its part in supporting Girls Inc. and its efforts to provide a high-quality environment and programs that help elementary school-age and teenage girls unlock their full potential."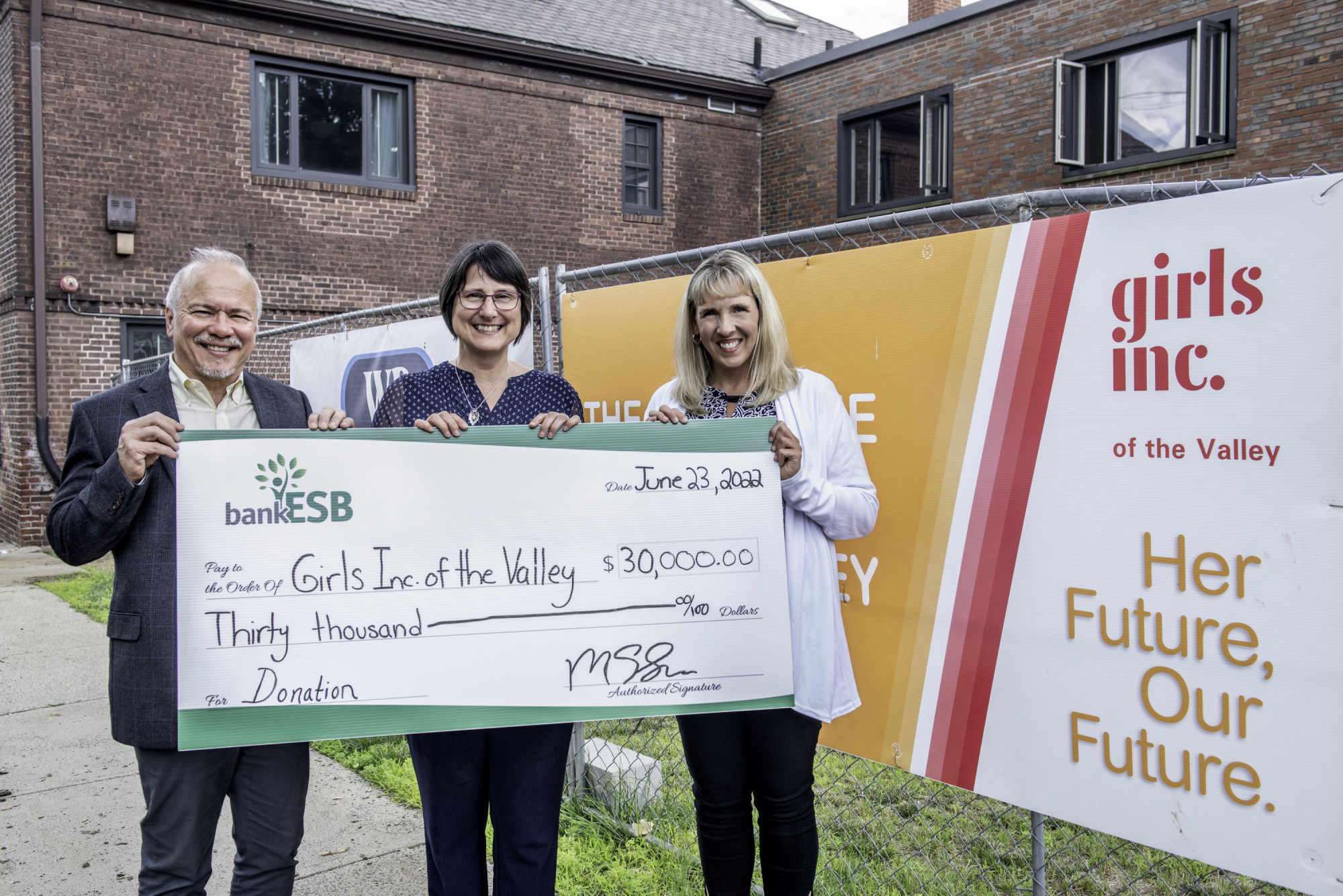 In the Photo:
Harry Montalvo, bankESB community development specialist
Suzanne Parker, executive director, Girls Inc. of the Valley
Tiffany Raines, vice president, branch officer, for bankESB's Sargeant St., Holyoke office
About bankESB
Founded in 1869 as Easthampton Savings Bank, bankESB is headquartered in Easthampton, Massachusetts, and operates 11 branches throughout western Massachusetts. Through its sponsorship and charitable giving program, bankESB and the Easthampton Savings Bank Charitable Foundation support non-profit organizations and causes throughout Hampden and Hampshire counties. In 2020, the bank and foundation donated more than $307,000 and over the last five years donated more than $1.7 million. For more information, visit bankESB.com.
bankESB is a member of the Hometown Financial Group, a $3.4 billion mutual multi-bank holding company headquartered in Easthampton, Massachusetts, and the parent company of bankESB, bankHometown, and Abington Bank. For more information, visit bankHFG.com.