Amelia Park Arena's Inaugural Youth Floor Hockey Season is Underway
Amelia Park Arena's first youth floor hockey season kicked off on Saturday May 20th. The league, which has been dubbed the "AFHL", will see 90 kids spread across 8 teams compete in a two month long season. The inaugural season has two divisions, ages 7-10 and 11-15.
The goal of the "AFHL" is to provide a place for the children of our community to enjoy the awesome game of Floor Hockey. Floor hockey is played in sneakers with the only required equipment being; helmet, gloves and shin pads, making it a very inclusive sport. It provides children who may not be interested in ice skating a chance to play the incredible game of hockey. This new league is the first time in many years that something like this has been offered in Westfield.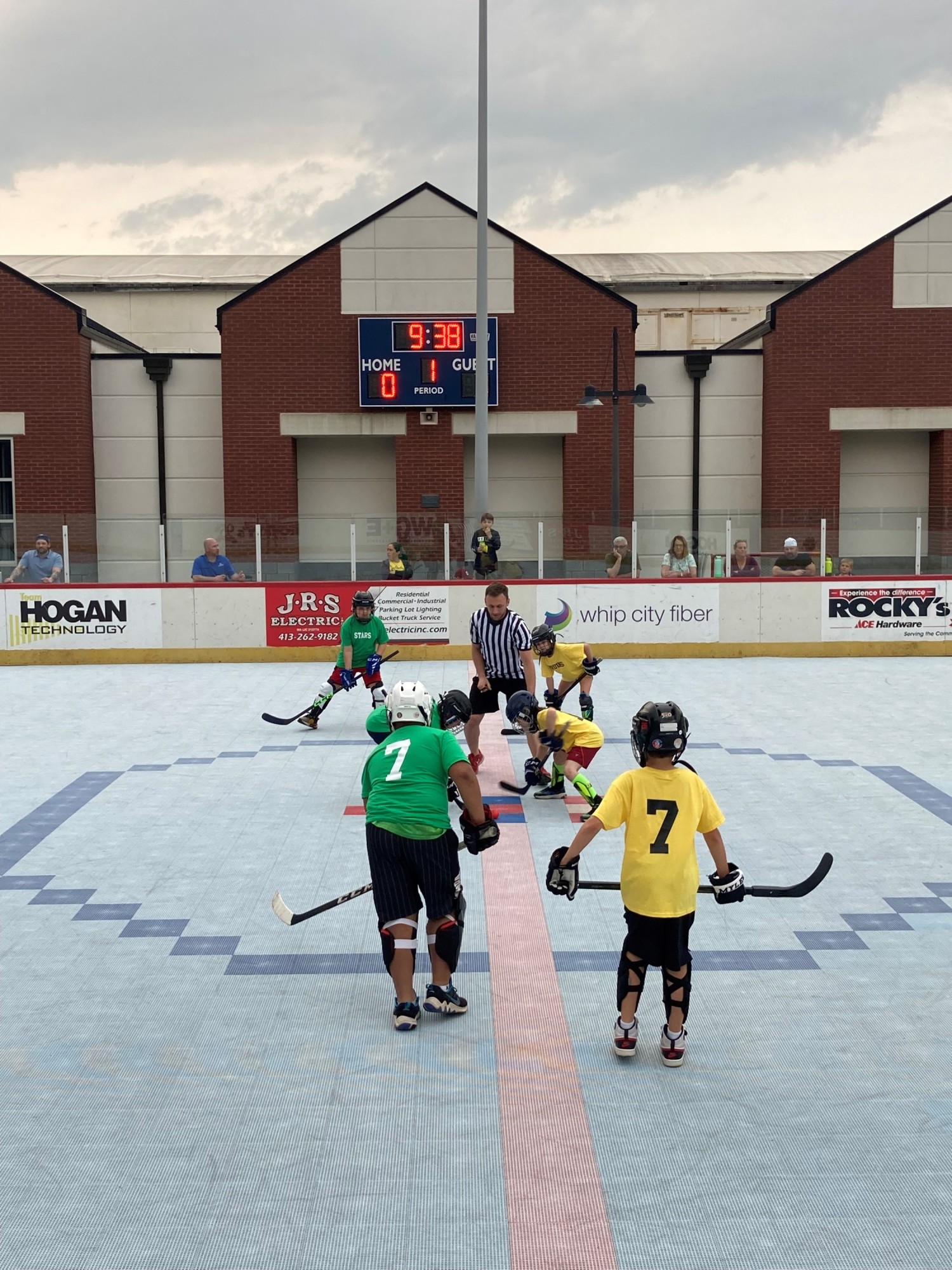 On opening day the outdoor arena was filled with smiling kids, invested parents cheering on their stars, and an overall incredible community based atmosphere. "I am a coach and parent of a child participating in the new league here. When I see the smiles on the faces of these kids, I think of Mr. Ferst, and I realize that his dream of building this park in honor of his wife, Amelia, has come true" said Thomas Daly of Westfield.
The "AFHL" was constructed by Amelia Park Arena General Manager Billy Fellows, but he looked to the community for their ideas and resources to assure a successful first year. One of those community members was Southwick Resident Christine Greco, who duels as a parent and coach. "It has already been so much fun getting out there on the rink and watching not only the love the kids have for the sport, but the drive to learn and be the best they can be" said Christine Greco. "I was honored and delighted to help Billy get the ball rolling for this league. I have coached and coordinated multiple sports, but hockey is the sport I am absolutely most passionate about! I think this is an amazing opportunity for the kids to have the chance to play hockey, even for those who don't know how to ice skate and most importantly for families who can't afford ice hockey fees. I am so excited for the rest of this season and to watch the league grow" said Greco.
The "AFHL" runs through July 22nd, games are played every Saturday morning from 930-130pm. The community is encouraged to come on down and check out some of the young talent lighting up the Amelia Park Outdoor Rink with their skills and smiles.